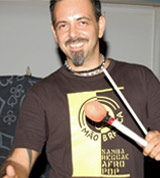 Luke Mattioni was born in Chiaravalle (Ancona - Italy) on 08/18/1977.
In 1994 he began his study of afro-cuban percussion with Amedeo Griffoni, a musician of great experience and great connoisseur of cuban culture.
In the following years took part in several workshops with Gilson Silveira, Kal Dos Santos, Stefano Rossini, Gilson Dos Santos and Peppe Consolmagno regard to Brazilian music, with Roberto 'Mamey' Evangelists, Paulo La Rosa, Angel 'El Chino' Chang , Irian Lopez Rodriguez for Cuban music and Moustapha 'Nbengue (Drums of Goree') with regard to African percussion.

He began playing with groups ranging from the funky 70's disco music, from bossa nova to sambareggae, from salsa to cuban folklore, developing a great taste in music. In 2000 he joined the side of the body Amedeo Griffoni school teachers GB Pergolesi in Jesi (AN - Italy), where he currently deals with cuban and brazilian percussion classes, also teaches at the Music Academy of Ancona (Italy), in the school musical "ArteMusica" in Falconara M.ma (Ancona, Italy) and the school of Music in Chiaravalle (Ancona, Italy) "ArsMusica". For many years held the courses of ethnic percussion sponsored by various municipalities in the Marche region (Italy), in different educational institutions state of the province of Ancona and cultural centers of aggregation.